Name: Jonathon DeBoos
Age: 21
Position: LW
Team: Inferno/Vipers
Shoot: Right
What is your favorite band?: None
Favorite animal?: The Black Panther
Favorite TV Show?: Seinfeld
Favorite website?: espn.com
Favorite food?: Italian
Favorite Hockey Team?: Red Wings
Favorite Hockey player (and why)?: I've got three, Steve Yzerman, because he's a great guy, a great captain, and increbibly skilled, but he went through years of losing, then sacrificed personal accomplishments to become a great defensive player and win two Cups. Also Chris Drury, because even though he's not the most skilled guy, he's determined as hell and comes up big when it counts. The third is Nicklas Lidstrom because he's got great skills and is unbelievably consistent, but he's not that flashy and he just gets it done.
All time favorite movie?: Fight Club
Pet hate?: Losing Grand Finals....
KB: How long have you been playing hockey?
Jono D: Since 95 - 6 years
KB: How did you get involved in the sport?
Jono D: Ant started in 94 and i played a little street hockey, so a year later i followed him to the Hornets.
KB: Most memorable Hockey Moment?
Jono D: Every time I play for Australia is memorable, but my first goal in PHL really sticks out. It was the first game of PHL, and there was like 20 seconds left in the first half and the score was like 2-2 against the Snipers. Someone shot on Doggy, I picked up the rebound, went around the back of the net and jammed it in the other side just as the period finished. I really wanted to score in PHL and Taz said I went nuts.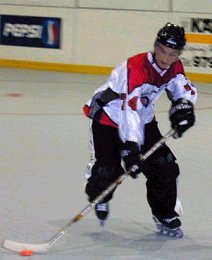 KB: What number do you wear and why?
Jono D: For club I wear 74 because when I first started there were only two numbers, 74 and 85, and Bobby Jacques was in Bladeworx and he told me to take 74, so I did. For representative teams I usually wear 14 for something different.
KB: At the end of your hockey career what will you have liked to have achieved?
Jono D: To make an impact on a good National team and know I did my best.
KB: What do you think Inline Hockey can do to move into the mainstream of Australian sports?
Jono D: The standard needs to improve enough that we can get on TV and get some exposure. For the standard to improve we need young kids to play a good standard so they can develop into better players than us.

KB: When you are not playing hockey what do you do with your time?
Jono D: I'm doing Science at Melbourne Uni. Aside from that I watch a lot of TV...
KB: What do you think players playing against you think about your style of play?
Jono D: I really have no idea. I just try to be as consistent as I can, so hopefully they think I'm consistent.
KB: If you could add or improve on one element of your game what would it be?
Jono D: I'm still fairly slow, so I'd like to improve my leg strength so I don't cruise so much.
KB: Besides the obvious what is the biggest difference between the players on the National teams from other countries and the players you play against in Australia.
Jono D: In the case of the main countries (Finland, Germany, USA etc.), they've all got great skills, are really big and play really well together. In the case of the younger guys, some of our young guys are as good, but they're ALL good, are well coached and are all on the same page.
KB: Since being named the Captain of the Inferno has your role on the team changed?
Jono D: It's a little different getting used to having to worry about everyone on the team, but we've got a good team and Jamie Edwards does a great job coaching us, so all I really have to do is make sure I play as well as I can.
KB: Do you play ice hockey?
Jono D: Not really. I've skated a couple of times and it was fun, but I don't really like the standard of the ice so I'm not all that keen. I was going to start this year, but I've got too much school on, so I might play Summer. If a new rink was built I'd probably start.
KB: Is it necessary to play ice in order to get to an elite level in inline?
Jono D: It wasn't necessary for me, but I played a lot of inline to make up for the rink time I missed out on.
KB: What do you see yourself doing in ten years time?
Jono D: I have no idea. Hopefully I'll have a job... but still be playing hockey, hopefully in an Australian National League.
KB: Any advice for the junior players who look up to you?
Jono D: Just play as much as you can if you enjoy it, and take rink time when you can get it!
KB: Thanks mate!
Jono: No worries mate